One of the loveliest bloggers on the block is Sadhbh from Where Wishes Come From and she has shared 14 moments from 2014 in her blogging life and invited other bloggers to do the same.  Well, isn't this such a great time of year to look back and reflect on a year that was.  Actually, about 2 days ago would have been the perfect time to look back and share my reflections but technical issues prevented me publishing for a short time so better late than never here are my 14 from '14!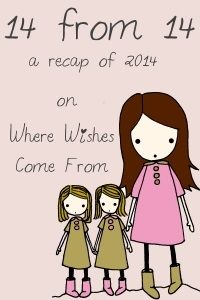 1. My Most Popular Post:
Looking at 2014, of my 86 posts, the most popular was my first ever linky, Lessons in Motherhood: 10 random things learnt in motherhood, that I ran in May. I was so pleased with the response to the linky with bloggers linking up not only in Ireland but abroad too. There was such a range of entries and I really loved to see everyone's insights.
Warranting a mention is my Guide to C-sections.  While it is not from 2014 it has continued in popularity on the blog this year. I am very proud of the guide. It has led to so many things in 2014 including my first article in a National newspaper, setting up a support group for C-section mums and a trip to Cork to talk at a public forum on C-sections. No doubt it will continue to be a favourite on the blog as long as the C-section statistics remain the same.
2. My Favourite Post:
I am so proud of both of the above popular posts. They do both rank as favourites of mine but if I am to look at the others I wrote in 2014 I really enjoyed writing the 10 Kids TV characters you will love to hate as a parent. It was just so much fun to write and I love writing my list posts. Sometimes it's just really nice to write something light-hearted and fun.
3. My Favourite Photo:
I love to see my kids having fun.  One of my favourite photos that appeared on Learner Mama in 2014 was my littlest lady have a blast at the cinema last summer.
4. My favourite Learner Mama Facebook page photo:
Outside of the blog, on my Learner Mama Facebook page I have often posted pictures that don't make it on the blog.  One of the more recent and definitely one of the more popular was my oldest's recent birthday.  She got an Elsa dress courtesy of her lovely Nana (my lovely mammy!) and we got a lovely shot in front of the Christmas tree (given her birthday is 3 days before Christmas!)
5. Most Common Theme:
I don't think I had any themes.  In fact, I hope I didn't as the whole premise of the blog is to be a general parenting blog and so there is rarely a single theme.  Of course stuff I wrote about my C-section birth experiences in 2013 were always popular but I actually didn't mention C-sections in 2014 until November and only because I was heading to Cork to speak about them.  My plan for 2015 is to continue to keep Learner Mama general and to develop my C-section stuff separately but more to come on that as the New Year progresses.
6. My Favourite Comment:
Gosh, I couldn't have a favourite.  Every time I get a notification that there has been a comment I get excited.  To have anyone comment on something I have written is more than thrilling.  Thank you to everyone who has commented in 2014.  I do try to reply or like them all.  I truly appreciate them.  They are all favourites to me and I hope if you like what you read or have something to say that you will comment in 2015 too!

7. Best Blog Moment:
A big highlight of the year was making the finals for Best Parenting Blog in the Blog Awards Ireland. Getting nominated was a thrill. Making it to the Shortlist was amazing but finding out I had made the finals was undoubtedly the best blog moment of the year. I remember it well. Sitting on the floor of my playroom, playing with my now 3-year-old about to do the school run and I just glanced at my Facebook notifications where I saw the link to the finalists. I quickly checked in before leaving the house and saw my name. As I was on my phone I was certain I had gotten the wrong page but no, I hadn't. I was there.
As for the blog awards themselves, what a great fun night with a group of fantastic fellow bloggers including my great roomie Sinead from Bumbles of Rice.
8. Worst Blog Moment:
There really weren't any bad moments. The most stressful moment of the year was realising that my blog had technical issues while I was away on holidays in Tenerife with very little WiFi.  Not only that, Blog Awards judging was ongoing. It took a week of pure stress and frustration to get to the bottom of the issue. Not my finest blogging moment.
9. Best Non-Blog moment of 2014
I took a bit of a break from blogging in August while on holiday with my family (I did send a postcard though!).  There is nothing I like more than getting away with my loved ones.  Time to get away from the day-to-day routine, reflect, chill out, enjoy ourselves and make memories to last a lifetime.  We certainly had an amazing break for more than 2 weeks in Tenerife.
10. Worst non blog moment of 2014
Unfortunately life is not always sweetness and light.  There was a rough moment towards the end of the year when a not so nice person rammed my car (twice) to get me out-of-the-way as he tried to do a get away from the area.  With three kids in the car, and a husband thousands of miles away in the US, it was a tough moment.  He left the scene.  We got through it.  The case is ongoing so I chose not to blog about it but let's just say it was certainly a low point of the year.  It is tough to have to teach young kids that there are people in the world that are pure nasty.
11. Favourite Celebration
On a much more positive note, 2014 saw me celebrate 10 years as a married woman.  I managed to get away for a whole weekend, without kids, in Co. Cork.  Like any good blogger I got the opportunity to reflect on a magnificent decade with my lovely husband Niall, but also to share my fabulous weekend in Castlemartyr.
12. Favourite Craft
Ok, I'm not a crafty mum but given it is Sadhbh's linky I should make an effort to say something about my best (attempts at) crafts in 2014.  Any regular readers will know that I am a fan of Hama beads and I guess my craftiness stops there.  I loved the results of our summer crafting session when rather than a seasonal theme we just picked some favourites.  My daughter did Frozen (can't get much more popular) and my son did Mario and Luigi (his own personal favourites).  I was so happy with the results they were framed and still, to this day, hang proudly on our playroom wall.
13. Favourite freebie
2014 certainly saw an increase in the number of contacts from PR companies and offers of products to try out.  We also got a number of movie premiere invites which my kids have absolutely loved.  We say Tinkerbell in February which was the first ever cinema trip for my baby girl and we saw Planes 2 in the summer which resulted in one of my favourite blog photos (see above).  We were gutted to miss out on the latest Disney premiere in December but hopefully there will be lots more offers in 2015.
14. What My Blog Did For Me in 2014
Being on a career break has the potential to shut down my brain.  The blog has prevented that.  It has given me an outlet that requires me to use skills that may otherwise go rusty.  Blogging has meant I have met the most amazing group of fellow bloggers (both virtually and in person) some of whom I would go as far as saying I would call my friends.  In fact, sometimes I think I chat to some of them more than anyone else in my life (including my husband!).  I can only hope that 2015 will result in the same.
Do make sure to check out all the other reflections on 2014 in Sadhbh's linky.
Wishing you all the very best in 2015.
Lucy xx